Ginormous Dirge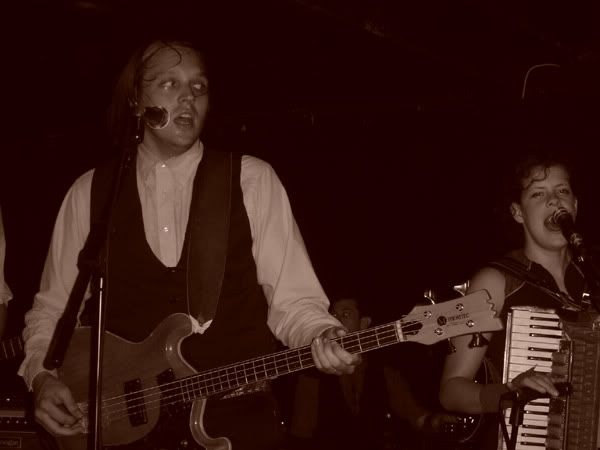 I don't know what to say!!! It's been a really good weekend for gigs. I travelled down to Birmingham on Friday to witness the mighty
Arcade Fire
. The hype around these guys is incredible at the moment. They might not be household names, - and let's face it, they're never really going to be with their classical arrangments - but since they signed to Rough Trade they've been getting a lot of positive press in all the UK music magazines. Anyway, they were tremendous on Friday night. The album hasn't stayed long stayed out of stereo since I bought it on Merge last year, but they've really have brought "Funeral" alive. Trust me, everything becomes clear when you see them live. An Amazing band.
Eggstock
or rather
Scatter
+
George
+
Oddfellows Casino
+
James Green
(Big Eyes)+
Zukanican
+ Dragon or Emperor AND Fabulous Foxes) came and went yesterday. It was an utterly fantastic day all round really. There were delays and lots of confusion, but the music on offer was at it's most quirky and avant guard best. There was a great knowledgable crowd of people that came to support Leicester's hardest working independent label in action - It's just a pity I had to leave slightly early (FUCK!)
Well, anyway, like i've been saying: I managed to hear some great music at the festival yesterday. The event was held in honour of the new
Pickled Egg
complilation
Jar
which professes to somehow catalogue the amazingly diverse selection of music - that Nigel does his best to promote in a musical climate that isn't exactly nuturing to small independent labels. Pickled Egg Records have remained fiercely anti-mainstream ever since their inception in 1998 and well, I see no sign of this changing in the future either. Why fuck around with greatness? Anyway, i'm here to post a track that I hope will get your heart racing and chins well and truly stroked in "Hmmmmmm, very interesting, Mr Bond" admiration. Ladies and gentleman, put your hands, feet and chairs together for the mighty collosus that are:
Dragon Or or mutha fuckin' Emperor, kids.
Dragon or Emperor
are the recently formed two-piece of Aaron Moore (Volcano the Bear, Songs of Norway) on Drums/vocals, and Stewart Brackley (Black Carrot, Songs of Norway) on bass guitar/vocals. They've been compared to the offspring of Pere Ubu and Lightning Bolt, but you have your Krautrock and
Jesus Lizard
-like (albeit more stoned) influences in there despite the miminal dirgy sound they create as a Bass and Drums "duo." I've seen them three times in the past couple of months and they've yet to disapoint. In fact, they're getting better all the time, and to deserve to play wherever there is a bar! An enormous sound that marries their intense mixture of fun and chaos, love the following track and please please please PLEASE
buy
Jar at Pickled Egg headquarters:
Dragon Or Emperor - Deepened Automatic
The following track isn't avaliable on Jar and as thus is somewhat of a DorE exclusive. Anyway, once again, I implore you to check out the Jar compilation. As a double CD with 40 tracks to it's name there really isn't a risk and it gives you an incredible insight into the work of the label over the past couple of years. Early tracks from The Go! Team (before they signed to Memphis Industries) and the mightly rock and "pop" pioneers, Need New Body are here, but the whole CD is something to savor.
Dragon Or Emperor - I Don't Know What To Say