Those aching blues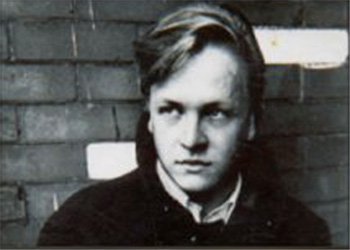 I'm listening to "Eternally Yours" [
The Saints
] at the moment and I can't help feeling impressed, no overwelmed, with the horn sounds that kick start "Know Your Product." Chris Bailey has always said that The Saints side-stepped the punk scene in the UK, and I think it has a lot to do with this album. Don't get me wrong, a lot of the songs on this would have worked on their debut, but they also have more soul and depth than most the punk bands they're forever associated with. Ah well, i've already included the word "punk" twice... I should stop. I actually started this article with a view to writing something about
Jackson C. Frank
.
Sad music in the night, sings a stream of light, out of chorus/Voices you might hear, appear and disappear in the forest/Short and tall, come throw the ball/ my name is Carnival
I remember reading an article on the life of Jackson C Frank last year, and his story has always stayed with me (You can read the full article
here
). I think it made more of an impression on me because I'd earlier read a short aricle on Terry Reid who is often given the title: "the unluckiest man in music." He famously turned down the chance to front Led Zeppelin - instead recommending Robert Plant and John Bonham to a young Jimmy Page. Was it a strange twist of fate? Or just bad luck? It often lamented that he never really lived up to his early reputation, but not even Terry Reid's misfortune can compare to the tragedies that shaped the life of Jackson C Frank. He occupies a niche in 60's british folk music, but he in fact an American who travelled to England in 60's when he was still in his early twenties. Artists like Nick Drake, Tom Paxton, Bert Jansch, and Dave Cousins would later go on to cover his songs, and he is known as one of the best singer/songwriters of his period. Unfortunately, he was only able to make scattered recordings, and even they were only able to make small impression of the British music scene in the mid 60's.
Jackson C Frank was found alive in 1995 but as T.J. McGrath reported in a
interview
with the singer:
he is disabled (both of his legs are crippled and he has lost his eyesight in one eye), he has been living on state aid. For many years, especially in the 1980s, he was homeless and roaming the streets of New York City or in the hospital receiving treatment for depression.
His life certainly had it's up an downs, and although the article i've already recommended reported Jackson C Frank as still being alive, he sadly passed away in 1999 before being able to make any more music. The recordings he made in the 60's were championed by John Peel upon their release, but they only ever really appear now as footnotes for other artists that he went on to influence. Nevertheless the reissue of "Blues Run the Game" and his other recordings in 2003 have once again given people the opportunity to discover his music: songs that cannot be matched for their honesty; often sparse, always reflective they're beautiful folk songs filled with meaning and hope. You reallycan't afford to not follow this up.
Jackson C. Frank - Just Like Anything
.
Read the
The Jackson C. Frank Story
. There is also a popular
fan page
dedicated in memory of the singer. You can buy the reissue of "Blues Run the Game"
here
I'd also like to recommend the excellent new entries on
Smashed Robot!
I'd had stopped visiting the site, but I think it's up an running again now for good(?). The Ego-Wrappin track is incredible - i'll definitely be following it up.