Booze fuelled something...
Right – First off, I'm sorry for not posting anything in a while, I know, there are no excuses.
There is good news though. Over the last couple of days I've discovered two new magazines: Artrocker and Truth. Artrocker is a "weekly" London based magazine, and although it has been going for a while, it's only recently been available to buy in its current glossy format; they even have their own label (I don't actually know which came first). There is a
website
to peruse at your leisure, so you know, take a look. The other magazine is not as straightforward. FACT, while also free, is produced in conjunction with
vinyl factory
, and has articles that encompass everything from music, to fashion and art. Click
here
to view their website. They were both recommended to me, and I'm recommending them to you, so if you do see them, pick them up - They're free afterall. I especially enjoyed the NME burning in Artrocker. They didn't just burn them, they were mauling the pages and burning them on the street...But in all seriousness, the reviews were good, and I didn't even realise The Flesh LP was getting released this year.
So down to business. This post will actually concentrate on two on the bands that feature on the Artrocker label. The first band go by the name of,
Gin Palace
, and have been compared with bands like The Cramps, The Stooges and even Johnny Cash. They're eventually get lumped with bands like the Yeah Yeah Yeahs, but besides being lazy, it's just well, not fair really. Album opener 'Kicking on' perfectly demonstrates their intent.
They really mean it
. You believe it when you Meaghan Wilkie screams: "Bottles of Whiskey, Bottles of Wine / Looks like we're having a good time"; and when I say she screams, she really does scream. Gin Palace lean towards a blues/ garage rock sound, so while you really shouldn't expect anything more than that, if you give them enough time they certainly manage to convert you. Powered by their drummer (Stuart Bell), and guitarist Jon Free (ex- London swamp-rockers Penthouse) they waste no time in coaxing you into their world of drunkenness and debauchery. For Meaghan Wilkie it's all very straightforward: "Stuart plays the drums viciously, Jon plays the guitar viciously, and I sing – viciously." They're even afraid that the addition of a bass player might lessen their impact? Well, I don't know about that, but they're the sort of band you wish John Spencer Blues Explosion sounded like, and that's good, because I quite like(d) them to be honest.
Gin Palace– Kicking On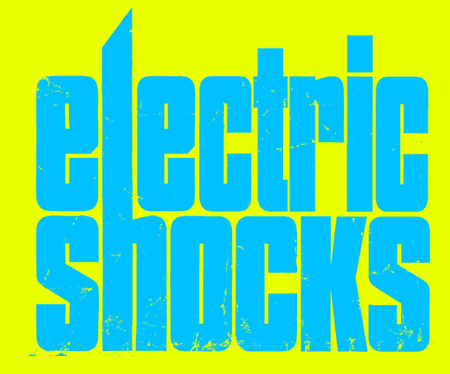 Next up are the
Electric Shocks
. Now, these guys are completely different from Gin Palace. Their songs might be short, but the band are far more energetic - and they have hooks! Pop hooks even. Lester Bangs hated the use of word "hooks," (FACT: The word was first used in the Rolling Stones review of Shocking Blue's 60's album "At Home") you know, but they're certainly catchy. They've been likened to the Buzzcocks, the Undertones and the New York Dolls. They sound discordant AND edgy, and their website even mentions that the addition of a Stylophone to their stage line-up has seen them likened to Wire. Interested yet? Well, they've recently toured with Art Brut, Moving Units and The Rocks, and their new album "Wild Dog Setting" has been described as "a ferocious animal of an album."(Logo Magazine). Listen with your own (two?) ears:
Electric Shocks - Old Flames are Dead Matches
So visit artrocker and pick up the magazine while it's still free! You can purchase albums by Gin Palace and Electric Shocks from their label site.
Here